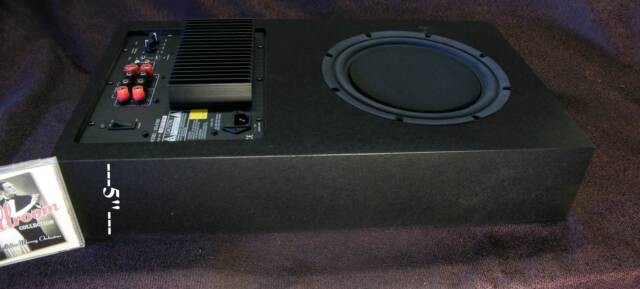 SW 10 Pancake/300/  

     Subwooofer


The SW 10 PC provides large amounts of clean bass (flat to 30 Hz)  with excellent linearity and is an ideal subwoofer for space challenged locations.  At only 5.5" deep it affords many options and is designed to work well behind couches, in walls and underneath beds and furniture.
System design -

      Sealed
Woofer




10"  Hi Flux/ neodym mag. 3" V/C - Enhanced  Motor
Amplifier



    300W Standard- Class A/B:
Response



   25 Hz - 120 Hz,
Controls



     Gain and Low Pass Frequency.
Switches


            Phase, low pass on and on/auto/off power switch.
Inputs and outputs 

Line level ( RCA jacks) and speaker level
Dimensions/weight

24" w x 14" h x 5. 5" d - with heat sinks - no grille. 50 lbs
Available Finishes

   Blk Gloss, Blk textured
Source Technologies, 701 Nutmeg Road N. South Windsor, CT. 06074       (860) 918 3088