SW 12 ULT - Downfiring              Subwoofer


Clean and sustained power with controlled intensity best describes the SW 12 ULT downfiring subwoofer. Downfiring the active 12" bass unit adds about 2 db of output while achieving an aesthetically pleasing "end table" appearance.  Features include a 380W power amplifier, Ultra Long Throw cast woofer, high density MDF construction, extensive circumferential bracing and architectural grade real wood veneers. High excursion surrounds and large magnets add to overall performance to provide high output, far field power and tight/deep bass response.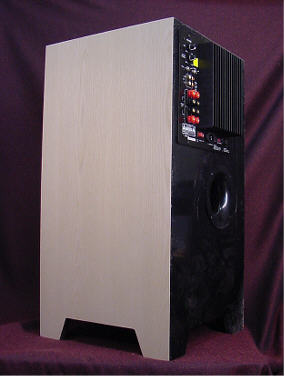 System design   

Downward firing vented subwoofer with slot loading
Woofer


  12" cast Ultra Long Throw, with 120 oz magnet  and 2.5" VC
Amplifier

            380  W Class B/ High current –
Amplifier Features    Variable low pass freq control, Level - Volume, Auto - On/Off,                                                    High level in,low level line inputs and toggle phase switch from







"0" to "180" degrees
Frequency Resp

  25 hz – 125 hz
Maximum output

115 db @ 50 hz
Dimensions/ Wt

  29"h x 15" x 17"d includes heat sinks, 80 lbs
Finishes


    Gloss Black, Satin Black, Cherry, Oak and Maple.
Source Technologies, 701 Nutmeg Road, South Windsor, Ct. 06074(860) 528 2892