Recommended for high resolution, reasonable level(< 100 db @ 2 meters) Stereo only listening, the 1.7 SLR is our most accurate full range system. A "cost is no object" ultra low coloration - "zero distortion" design it employs "the best of the best" state of  the art drive units, cabinet materials, interior coatings and crossover components.  Boasting a 1.2 " thick front baffle steel pins and extensive circumferential bracing the 1.7 SLR's enclosure adds no coloration while remaining perfectly rigid. The highly acclaimed Scan Speak Revelator ™ silk  dome tweeter and 7" Revelator™WC woofer are optimized, via a proprietary minimum phase crossover, featuring Mundorf™
Silver Oil capacitors, Perfect Lay™inductors and oxygen pure wiring. Every aspect of 1.7SLR's performance can be described as precise, musical, involving and 3 dimensional. For those seeking the utmost in musical purity the 1.7 SLR achieves new reference levels that easily exceed speakers costing more than $10,000 pr.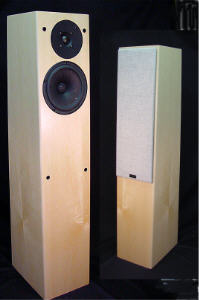 Specifications
System Design



2 way floor. 3rd order  vented
Woofer




7" Revelator™ -  With symmetric drive     motor system
Tweeter




1 " Revelator ™ with special "dish" flange
Frequency Response     

35hz – 20 khz ,   +_  1.5 db !
Crossover




Minimum phase, proprietary "cascade"  - 1.8 khz
Power Min/Max


      10 W / 300W max
Impedance



      6 ohms
Sensitivity



     89 db at  1 W  1 M.
Dimensions



     8.5" w x 11" d x 39.5 " h
Finishes Available


   Oak, Cherry,Maple, Satin Black
Shipping Weight


    67 lbs
Source Technologies , 701 Nutmeg Road N. South Windsor, Ct. 06074 ( 860) 528 2892